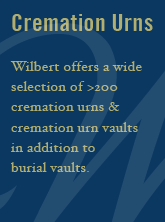 Personalization
Wilbert offers multiple ways to personalize a burial vault or urn vault with words, symbols, and images that speak of a singular spirit. Your loved one had a unique personality. The selections you make for the visitation and service should communicate that singular spirit. These choices ensure your loved one's memory is remembered for generations to come.
There is no right or wrong way to grieve. Grief experts suggest that gathering with friends and family, sharing memories and participating in a ceremony all help with the healing process. It's also been found that including a special urn or memento, and adding personalized touches provide comfort long after the service. You have endless options for memorial urns, guided primarily by personal tastes and the choice for final disposition. Whatever you choose, please remember this... The right choices are your choices.
Artistic Collection
Stunning selections by talented artisans to please a wide range of tastes and styles... one-of-a-kind hand-crafted designs, intricate etchings, sculptures, statuary and new visions of traditional concepts.
Hardwood Collection
Striking shapes, sizes and finishes plus a variety of personalization options allow you to capture the spirit and personality of your loved one through the perfect hardwood memorial urn selection.

Contemporary Collection
A new take on traditional styling! Distinctive designs, unique materials and fashion-forward styles combine to create extraordinary urn selections.

Bronze Collection

Lustrous, classic shapes and sizes in sheet bronze or artistic cast bronze... ideal for personalization with custom engraving or Life Expressions emblems.

What is an Urn Vault?
If you plan on ground burial for the urn, most cemeteries require it be placed in an urn vault. Lined urn vaults give urns varying levels of protection from subsoil elements and the weight of the earth and cemetery maintenance equipment. A lined urn vault is made of high-strength concrete and reinforced with durable plastic or a combination of durable plastic and metal (bronze, copper, or stainless steel). Leading funeral professionals throughout North America recommend Wilbert lined urn vaults for superior protection and lasting piece of mind.