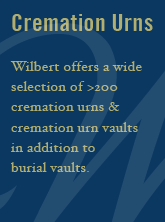 Personalization
Wilbert offers multiple ways to personalize a burial vault or urn vault with words, symbols, and images that speak of a singular spirit. Your loved one had a unique personality. The selections you make for the visitation and service should communicate that singular spirit. These choices ensure your loved one's memory is remembered for generations to come.
A burial vault helps protect the casket from the subsoil elements, the earth's weight and heavy cemetery maintenance equipment that rest on or pass over the grave. It will also help preserve the beauty of the cemetery or memorial park by preventing the ground from settling over time.

This page contains a variety of Wilbert Burial Vaults ranging from Ultimate to Basic. As you select the vault for your loved one, you should consider several factors - the vault's material, design and personalization options - all guided by your preferences and those of your loved one. Whatever you choose... The right choices are your choices.
Wilbert Bronze - Ultimate
STRONGEST of all the Wilbert burial vaults
ONLY Triple-reinforced burial vault
FINEST metal to be used in burial
HIGH IMPACT PLASTIC liner
Cover and base are reinforced with corrosion resistant bronze alloy
Exterior base is completely encased and interior is reinforced with ABS liner
Memorialization Plus capsule
Personalization available: Engraved name & date plates, Your choice of Custom or Stock Legacy print
3,000 lbs.
100 year warranty
Bronze Triune

- Premium
FINEST of the Double-reinforced burial vaults
High strength concrete
HIGH IMPACT PLASTIC liner
Cover and base are reinforced with natural corrosion resistant bronze
Lustrous bronze carapace
Personalization available: Your choice of Custom or Stock Legacy print
3,000 lbs.
75 year warranty
Copper Triune

- Premium
ONE OF THE FINEST metals to be used in burial
Double-reinforced
High strength concrete
HIGH IMPACT PLASTIC liner
Cover and base are reinforced with natural corrosion resistant copper
Lustrous copper carapace
Personalization available: Your choice of Custom or Stock Legacy print
3,000 lbs.
75 year warranty
Stainless Steel

- Standard
2nd STRONGEST of all Wilbert burial vaults
MIDDLE of the entire vault line
Double-reinforced
High strength concrete
HIGH IMPACT PLASTIC liner
Cover and base are reinforced with strong corrosion resistant stainless steel
Lustrous stainless steel carapace
Personalization available: Your choice of Custom or Stock Legacy print
3,000 lbs.
75 year warranty
Cameo Rose

- Standard
2nd STRONGEST of all Wilbert burial vaults
MIDDLE of the entire vault line
Double-reinforced
High strength concrete
HIGH IMPACT PLASTIC liner
Cover and base are reinforced with strong corrosion resistant stainless steel
Brushed stainless steel carapace
Personalization available: Your choice of Custom or Stock Legacy print
3,000 lbs.
75 year warranty
Veteran

- Standard
2nd STRONGEST of all Wilbert burial vaults
MIDDLE of the entire vault line
Double-reinforced
High strength concrete
HIGH IMPACT PLASTIC liner
Cover and base are reinforced with strong corrosion resistant stainless steel
Brushed stainless steel carapace
Personalization available: Your choice of Custom or Stock Legacy print
3,000 lbs.
75 year warranty
Tribute

- Basic Plus
FINEST of the Single-reinforced burial vaults
HIGH IMPACT PLASTIC exterior and interior liner
Simulated polished marble exterior finish
ABS plastic carapace
Personalization available: Your choice of Custom or Stock Legacy print
2,630 lbs.
70 year warranty
Venetian

- Basic
MIDDLE of the Single-reinforced burial vaults
HIGH IMPACT PLASTIC liner
ABS plastic carapace
Personalization available: Your choice of Custom or Stock Legacy print
2,600 lbs.
65 year warranty
Monticello

- Entry Level
ENTRY-LEVEL of all Wilbert burial vaults
BASIC liner
2,000 lbs.
50 year warranty