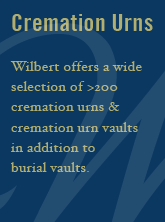 Personalization
Wilbert offers multiple ways to personalize a burial vault or urn vault with words, symbols, and images that speak of a singular spirit. Your loved one had a unique personality. The selections you make for the visitation and service should communicate that singular spirit. These choices ensure your loved one's memory is remembered for generations to come.
Wilbert employed the research firm, PAR, to ask families about their expections, preferences & experiences. Here is what they found...
Fact: 42% of all burial families expect to buy a vault.
Meaning: Families need vault education more than ever! Burial vaults have been in use since 1880 and only 42% of all burial families expect to make this purchase. Why?

Fact: The average estimated cost of a vault is $1,768.
Meaning: Do not pre-judge your burial families. Help them make their own product choices. How does your business' average vault sale compare?

Fact: 86% of burial families said the graveside service is AS IMPORTANT or MORE IMPORTANT than the service conducted at the funeral home.
Meaning: Families expect more. The graveside will be the last thing they remember about their loved one's funeral. Are you creating an impact with your graveside service?

Fact: Families want the remains of their loved ones protected. i.e. "Clean & Dry".
Meaning: The backhoe graphic on your display is worth a thousand words. Be sure to use it to its fullest potential.
Copyright 2009 - Wilbert Funeral Services


Frequently Asked Questions
What is the difference between a burial vault and a grave liner? - A burial vault must be "Lined & Sealed". That is, it needs to have a plastic liner to keep the casket "clean and dry" and a seal to seal the gap between the cover and the base. A grave liner has no liner and no seal and in no way is it protective to the casket. It is simply a concrete box built to house the casket and to support the earth's weight and the heavy cemetery maintenance equipment. Other products that fall into this unprotective category are units that are coated in tar, paint, asphalt, etc.

What is a "carapace"? - A carapace is the rectangle metal or plastic piece that is placed on top of the concrete burial vault cover during the manufacturing process. Many people believe that it is only there for decorative purposes, however it truly has a very functional role in the strength of a vault. When a cemetery backhoe is on top of the grave while digging a fresh grave nearby, there is a tremendous amount of weight and energy exerted through the soil and onto the vault below. The carapace will absorb much of that weight and energy and then distributes it throughout the entire vault. Without the carapace (such as in our Entry-Level Monticello) the weight and energy is basically placed in one area of the vault. Please see the backhoe illustration.

Why do I need to purchase a burial vault? - In most areas of the country, state or local law does not require that you buy a container to surround the casket in a grave. However, many cemeteries require that you have such a container so that the grave will not sink in. Either a grave liner or a burial vault will satisfy these requirements


We bought a sealing casket. Why do we need a sealing vault? - "There is no scientific or other evidence that any casket with a sealing device will preserve human remains." - Quote from a very well known casket manufacturer. It's important to remember that the casket's purpose is to provide a dignified way to move the body before burial or cremation. No casket, regardless of its qualities or cost, will preserve a body forever. Metal caskets frequently are described as "gasketed," "protective," or "sealer" caskets. These terms mean that the casket has a rubber gasket or some other feature that is designed to delay the penetration of water into the casket and prevent rust. The Funeral Rule forbids claims that these features help preserve the remains indefinitely because they don't.